Basile Organic Wine Farm
ZERO ENVIRONMENTAL IMPACT
The farm has, from its very beginning, chosen to cultivate the lands according with norms indicated by the biological agriculture. The vineyards are surrounded by woods that create a great, natural protective barrier. Manure and other organic materials of biological origin are used as fertilizers. To help fight diseases that might affect the vines, traditional products, such as sulphur and, in rigorously controlled quantities, copper, are used. Many operations including the harvest are carried out manually to permit the best quality of the grapes. Weed killers are never used.
Giovan Battista Basile purchased this land in 1999, involving his family in the endeavor as well. The property is located in Maremma, Tuscany, in the Municipality of Cinigiano and had been left in a state of abandon for 30 years.  Giovan Battista has always diligently attended to all of the agricultural and oenological activities with the help of Maurizio Saettini, a young and active winemaker. Giovan Battista's wife Ilaria, together with their young sons Antonio and Federico, is in charge of welcoming guests as well as of organizing the wine tasting events. On these occasions the wines are accompanied by genuine, wholesome products and traditional homemade cooking.
The lands extend for approximately 34 hectares. They are mostly exposed towards South-West, in an ideal position for sun radiation permitting the vineyards to be caressed by the sun all day long. The altitude varies in height between 380 and 330 meters. The soil has a prevalently calcareous composition; characteristic of this territory is the so-called galestro, a rock that crumbles in time because of bad weather, thus creating an ideal environment for the vines. In summer, the temperature rarely exceeds 30°Celsius, thus ensuring a dry climate thanks also to the constant ventilation of the land.
Our wines
Eight  hectares of vineyards are cultivated producing 50.000 bottles of wine. The vineyards are planted with plants of red Sangiovese, Merlot and White Vermentino, Vionnier and Petit Manseng. The grapes are manually harvested in crates of 18 Kg. The fermentation is done in stainless steel and big oak barrels, at controlled temperature, pumping must over and making delestage following the characteristic of the vintage. The aging period is done in French oak tonneau and barriques during  12/24 months. All products are organic, controlled and certified by CCPB (Consortium for the Control of Biological Products ).
Cartacanta
Montecucco Sangiovese D.O.C.G. Created with a blend of 90% Sangiovese and 10% Merlot.
Read more
Visit our Tuscan Winery
Contact us to book a visit at the Basile winery for a unique experience. Your journey into the world of Tuscan wine will take you first to our vineyards and wine cellar and from there to a guided wine tasting.
Contact us!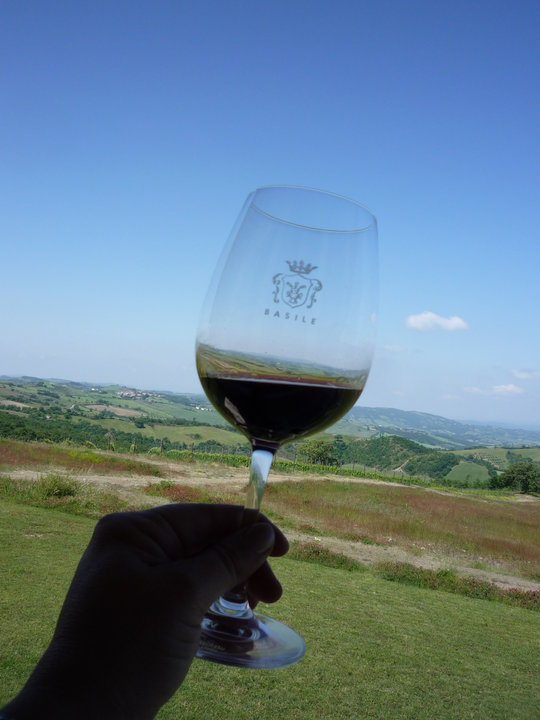 Wine tasting
Taste our wines paired with excellent local products at our home whilst admiring the beautiful view over southern Tuscany's countryside.
Contact us
Pod. Monte Mario – Cinigiano (GR) – Toscana
+39 0564 993227
+39 335 5882149
 info@basilessa.it
Home Page